11/01/09 Tailgate Party, Dolphins at Jets
Revenge Is A Dish Best Served….
After the Monday night defensive debacle a few weeks ago the New York Jets are hosting the Miami Dolphins this Sunday. For those of you who don't know, the Jets – Dolphins rivalry is one of the greatest football rivalries in the NFL. As a Jets fan, i am praying for a blowout, where we roast and skewer the Phish. And speaking of skewering and roasting…..
The Tailgate Menu
Steak on a stick (and chicken, duh), with different marinades (in the lab formulating some liquid meat flavoring awesomeness right now)!
Grilled asparagus
"The Sanchez Special" Sabrett Hot Dogs with all the good stuff – red onions, kraut, and my own chili topping, Mark, kick ass and eat all you want!!!!
Slider burgers with carmelized onions
My own coleslaw
Courtesy of Sambuca's Cafe, FRESH FILLED CANNOLIS
As with every home game this season, fresh filled cannolis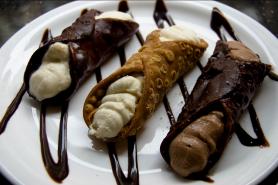 On Tap chillin' in the kegerator:
America's oldest brewery, Yuengling beer, along with bud and bud light. Also, a cooler of Jet Fuel!
Location: We are at lot 16H, look for a black silverado pickup and flagpole with Jets Flag. We will have a few blue tents up as well and probably parked along the gate on the grass along the side of 16H
As always, everyone is invited to stop by and enjoy some great food and laughs, just ask for Frank and toss him a few bucks (20.00) for the effort.
We will have the beer pong table set up! (you can issue challenges in the comment section!)
Pass the word along on any of the Jets fan messageboards as well! And please, if you are thinking of attending it would be great if you could leave a quick comment at the bottom , along with how many peeps you think you may have in tow.
Past Tailgates: