9/27/09 Tailgate Party, Titans at Jets
Burgers and Dogs TailgateJoe Style
Who doesn't love a great burger or hot dog? I'll tell you who, Bin Laden, but fuck that guy! Nothing is more American than burgers, hot dogs, and football. And nobody loves those things more than TailgateJoe! But you haven't had a burger in a parking lot at 10am until you have had one of our burgers!
Slider Burgers, Sabrett Hot Dogs, and Sausage Patties with "The best condiment bar ever amassed in a parking lot in New Jersey!"
home made coleslaw (recipe coming soon)
San Gennaro style onions and peppers
Chili (recipe)
Selection of cheeses
Green chili relish
Queso sauce
Guacamole
Carmelized Marsala Onions (recipe coming soon)
chili mayo
Mac attack special sauce (recipe)
Kraut
Red onions
Sauteed shrooms
Bacon
Regular and Sweet Potato Fries
Onion Rings
FRESH STUFFED CANNOLI'S
and much more
On Tap chillin' in the kegerator:
Its a Belgian Whit Beer Showdown between Belgium's own Hoegarten and scrappy US challenger Blue Moon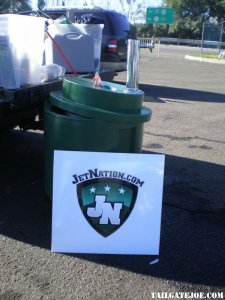 Location: We are at lot 16H, look for a black silverado pickup and green keg cooler. We will also have a small Jetnation sign, look for the JN Shield:
As always, everyone is invited to stop by and enjoy some great food and laughs, just ask for Frank and toss him a few bucks (20.00) for the effort.
We will have the beer pong table set up! (you can issue challenges in the comment section!)
Pass the word along on any of the Jets fan messageboards as well! And please, if you are thinking of attending it would be great if you could leave a quick comment at the bottom , along with how many peeps you think you may have in tow.
Past Tailgates: