9/27/10 Tailgate Party, Jets at Dolphins
HUGE DIVISIONAL RIVALRY ON SUNDAY NIGHT!!!
TailgateJoe.com is doing another road game tailgate this year, picking a huge divisional game on Sunday night. I'm in Miami Bitch!
So all you New Yorkers traveling down for the weekend, the New York transplants living down south, and even you Phish fans are welcome to come party.
Tickets For the Game
If anyone is looking for tickets for the game, my friend Lena is a large nationwide ticketbroker. She told me she would be happy to help anyone looking, and she still have some reasonably priced seats. You can call her at 954-342-2904. Just let her know you are a friend of Joe's from tailgatejoe.com
On The Menu:
Just because we are on the road doesn't mean we are serving crap. We are filling up the coolers with some NY/NJ classics, something for all you NYers down south to remind you of home.
Sausage and peppers with Esposito's Pork Store sausage, the best pork store in NYC
Taylor ham and cheese sandwiches. Yup, pork roll, a NJ delicacy
Tailgate Joe's famous Chilidogs, and sabrett dogs with all the NY pushcart trimmings
Half pound cheddar burgers
Cannoli, fresh filled on the spot
Beer, gonna sort that out but it will be premium import/microbrew
The TGJ Jets fanclub dues for this event is $35. Please keep in mind this is not such an easy thing to do, and entails someone (me and me) driving all my gear down there from NY. We also have limited space, so preregister to assure your space.
Location:
We will be parked in Orange (camry) lot 13. Look for the Uhaul van and the jets flagpole with Jet player inflatable hanging from it.  We will be there at 4:30pm.
Pass the word along on any of the Jets/Phins fan messageboards as well! And please, if you are thinking of attending it would be great if you could leave a quick comment at the bottom , along with how many peeps you think you may have in tow.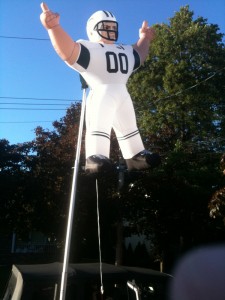 Parking Lot Map (we are in lot 13 on the top right side of the map)