Hey guys, just a heads up on something fun we are doing at the next game. After years of informal beer pong matches at our tailgate parties going back to 2004, we are organizing the first official TailgateJoe beer pong tournament, with some great prizes.
This tournament is free to anyone who attends our tailgate party, subject to available spots, so show up early to get on the board! We are also donating $5 from every tailgate party donation to The Leukemia  Lymphoma Society, a charity that has special meaning to me as a Hodgkins Lymphoma survivor myself.
Special thanks go out to Premium Seats USA, a huge national ticket broker and friends of mine for providing prizes, and NYC's own Kelso Brewery of Brooklyn, a great group of people who do a lot of charity in the NY area (and make a damn fine collection of beers) for providing the official beer of the tournament.
The grand prize team will win:
(2) $100 gift certificates to www.premiumseatsusa.com to purchase any of the thousands of event tickets nationwide.
Of course, this is all in addition to the great tailgate party we throw at every game, with great food and beer and the camaraderie of fellow Jet fans (and a few visiting team fans as well sometimes, lol).
Please click the twitter and facebook icons below to share this with all your friends, it is for a great cause! We will post a signup list for those that prepay for the game in a few days, just drop a comment on the page here and we will let you know when it goes up! You can preregister here for this tailgate party right now to lock yourself in.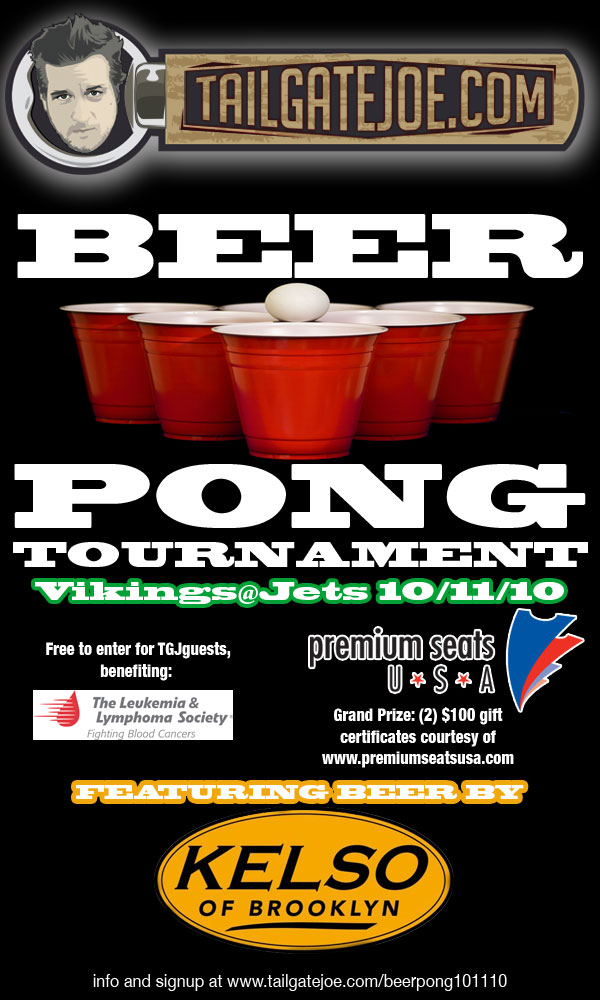 Got any ideas for TailgateJoe? Want to be featured on the site?
We are a site dedicated to the primal nature of man, to gather around the fire, eat, laugh, and drink! If you have any ideas for posts or content for the site drop us a line! Even if the idea sucks a little bit we can usually spit shine it to some degree!
If you are a chef or in the restaurant/hospitality industry, make or market cool guy-toys, or just have something you want featured on TailgateJoe then we want to hear about it. We are always looking for cool content and TailgateJoe is a great promotional outlet for you and your product/service.
Please Share This Post:
Spread the word and help our site grow! Clicking the links below will only take a few seconds and we really appreciate all the help you can give us, especially with twitter and facebook referrals!