I have been tailgating regularly for Jets games since 2000. Always having enjoyed cooking
and hosting parties, I always gravitated towards organizing and cooking at these tailgates. In that time, I have borrowed, bought, and used a wide range of devices for cooking out in the parking lot. As the group of friends grew year to year, so did my experience and my equipment. Going from 4 or 5 guys in the beginning and growing to well over 300 per game now, I know what works and what doesn't work. Last season I finally found the hands down best commercial grills money can buy, Crown Verity, and this season I am happy to announce our partnership with them as the Official Grill of Tailgate Joe.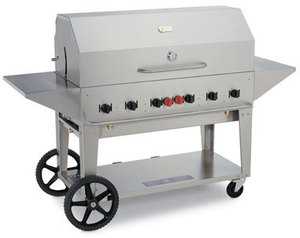 Crown Verity makes awesome grills, a class of their own with no real competitor in true professional outdoor grilling. Some other brands may have the look with their (cheaper grade) stainless steel, and some may look big and impressive (like those long cheap jobs from Sams Club and Costco), but none of them have the stats that a Crown Verity has and none of them can come close to performing the Way a Crown does.
This season at TailgateJoe home games we have a two grill setup featuring the huge 6ft long MCB72 we acquired last season, and the new 4ft long MCB48 we acquired this season. This gives us over 17 ft of enclosed cooking surface and 260,000 BTU's of heat fed off of 4 propane tanks. These grills have been tested and will hold up throughout the season in any weather, and for a crowd of any size we want.
For any grilling/cooking nerds that want to take a look "under the hood" of our grills, feel free to come by and ask for Joe at an event for a look. And if anyone is thinking of buying a grill of their own and wants the best let me know, I can hook you up with a pretty good discount.
Some of the features that set Crown Verity apart:
Commercial Construction
All CV grills are constructed of the highest quality stainless steel throughout. Where most designer grills will just use stainless for exterior parts, Crown Verity uses stainless for the entire grill. This means the grill will last forever!
Convection Cooking
The roll domes allow the grill to be used as a convection oven, offering precise, even heat and allowing you to cook anything with the grill
Heat and More Heat!!
With the amount of BTU's in a Crown Verity, you are ready to cook in minutes, and able to reach temperatures of 800-850 degrees on 8 minutes! That means perfect heat for quickly searing and excellent recovery time.
Even Heat
All Crown Verity grills have the highest performance and most precise, even heat distribution system available on the market today. CV utilizes multiple stainless steel burners for the ultimate in cooking control.  No one else has as many burners or as precise and even heat distribution.
Easy to Light
Crown Verity grills utilize a stainless steel lighter tube, making lighting simple, easy and safe.  Once you light the lighter tube, it acts as a standing pilot, allowing the operator to turn on/off the burners of choice. You won't find cheap plastic igniters on a Crown Verity grill.
Easy Cleaning
All Crown Verity grills clean up like a dream as we incorporate water pans in all of our gas grill models.  Any fat or grease that drips off the grill will immediately vaporize when it hits our stainless steel radiant.  Any grease that misses the radiants falls into our removable stainless steel water pans.  The water pans have a drain port on the end to allow you to drain the water out of the pans prior to removing them from the grill for complete cleaning.
Complete Cooking System
All Crown Verity grills are designed and engineered to accept optional accessories – roll domes, wind guards, griddles, rotisseries, steam pan adapters, veggie trays, charcoal trays and smoker boxes – which allows you to grill, steam, roast, fry, smoke or charbroil.  Even a piglet on a spit!  No other grill offers you as much cooking versatility and flexibility as a Crown Verity grill.
Split Gas Systems
The 48", 60", and 72" grills have two independent gas systems which allow you to utilize two 20 lb. gas cylinders per grill. This means fewer cylinder change-overs and no cylinder freeze – ups.
Got any ideas for TailgateJoe? Want to be featured on the site?
We are a site dedicated to the primal nature of man, to gather around the fire, eat, laugh, and drink! If you have any ideas for posts or content for the site drop us a line! Even if the idea sucks a little bit we can usually spit shine it to some degree!
If you are a chef or in the restaurant/hospitality industry, make or market cool guy-toys, or just have something you want featured on TailgateJoe then we want to hear about it. We are always looking for cool content and TailgateJoe is a great promotional outlet for you and your product/service.
Please Share This Post:
Spread the word and help our site grow! Clicking the links below will only take a few seconds and we really appreciate all the help you can give us, especially with twitter and facebook referrals!