I just got in from the Jets game in Denver where I was able to use my Fanvision for the first time and thought I would share my experience with it. For any of you wondering whether it is worth the money, the short answer is HELL YES!!
Fanvision, what is it?
Fanvision is a portable display device that enhances your gameday experience. Most people will agree that there is nothing as great as the gameday experience seeing an NFL football game live at the stadium surrounded by fellow fans cheering on your team. While this is the ultimate way to watch such a physical sport as football, there are some things that I enjoy when watching the game at home. I would say there are 3 things I miss when at the game: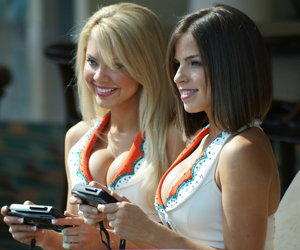 Checking other team's players for fantasy stats
The commentators calling the game
The replays shown on tv that aren't always shown on the big screen at the game
Well, enter Fanvision to bring me those missing aspects of football gameday! With Fanvision, you can get all that info that I miss on gameday at the game and even more! Some of the features you can enjoy with this device are:
The video and audio feed of the tv broadcast
Alternate live video feeds from cameras around the stadium
Replay of the last play from multiple angles
NFL Redzone channel showing all the NFL scoring plays live as they happen
Fantasy player tracking
Access to out of town game broadcasts
Exclusive in game highlight reels
Live in depth analysis showing stats and trends
League wide scores, stats and standings
Pre and Post game coverage
That is a LOT of info packed into a small device you can wear around your neck.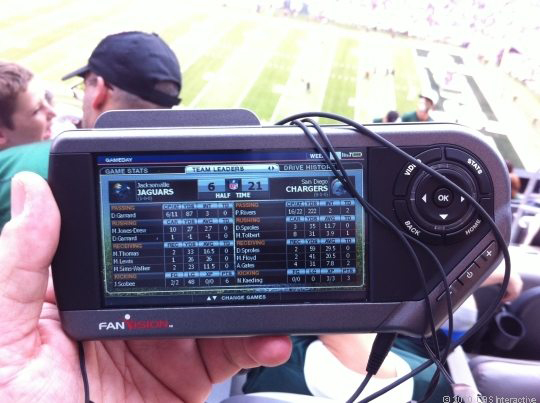 So How Does It Work?
In a word, AWESOME!
I like to travel to away games every season, check out different towns and different stadiums, and support my Jets. One of the great things about Fanvision is that it works in any stadium that offers the service. Right now that includes the Jets, Dolphins, Bills, Broncos, Cardinals, Bears, Browns, Vikings, Eagles, Seahawks, Rams, and Redskins. The device uses a closed circuit broadcasting system that works in the parking lots surrounding the stadium and within the building.
I have only used it at Denver so far so I can only comment on the signal there, but it was perfect there. We were going into the late game, so there was plenty of football to watch while we tailgated in the lot. The out of town game broadcast and Red Zone channel were great to have. Once inside the stadium, I went to the fantasy screen and input my starting lineup. Once your roster is entered, it updates the stats live and will even show an alert on screen letting you know one of your players scored a td. Everyone will have their own way of using the Fanvision during the game, the way that worked best for me was to tune in to the live network tv broadcast of the game, plug in the included earbuds, and listen to the broadcast audio through one ear while watching the action on the field. For me that was the best of both worlds. Then, during any timeouts, I would flip to the Redzone channel and watch what was going on around the league. In this instance, I was able to keep an eye on division rival Patriots and their overtime game.
So if you are into fantasy football, or bet on games or just really like to keep track of what is going on around the league, or you like to hear the audio broadcast of the game being called, the Fanvision is a no brainer. I actually have a few friends who put in a lot of time helping me throw these tailgate parties and made the trip with me out to Denver. I thought it would be a cool gift to thank them for all their help so I grabbed a few of these as gifts. Every one of them thought it was awesome and really enhanced the game day experience. I couldn't agree more.
You can buy a Fanvision at the Jets Shop at the stadium or on the fanvision website.
Other Fanvision articles:
Got any ideas for TailgateJoe? Want to be featured on the site?
We are a site dedicated to the primal nature of man, to gather around the fire, eat, laugh, and drink! If you have any ideas for posts or content for the site drop us a line! Even if the idea sucks a little bit we can usually spit shine it to some degree!
If you are a chef or in the restaurant/hospitality industry, make or market cool guy-toys, or just have something you want featured on TailgateJoe then we want to hear about it. We are always looking for cool content and TailgateJoe is a great promotional outlet for you and your product/service.
Please Share This Post:
Spread the word and help our site grow! Clicking the links below will only take a few seconds and we really appreciate all the help you can give us, especially with twitter and facebook referrals!