Ok, I really think the whole slider thing has jumped the shark, everything has turned into a slider. Since when is smaller better? Have you met my family? Sliders are just a tease. So why another slider, after our pulled pork sliders and meatball sliders? Why am i perpetuating this miniaturization of tailgate fare? Well, two reasons. First, we serve lots of great things at our parties, so small dishes allow people to try different things. Second, some things are so rich and decadent that you can't eat a pound and a half.
Today we have the newest TailgateJoe menu item,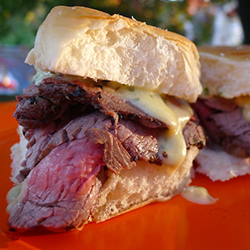 the Filet Mignon slider. First we take whole Creekstone Master Chef tenderloins that I get from Pat LaFrieda. Creekstone Farms produces some of the best beef in the country with their certified Black Angus program. Their Master Chef label is the best of the best beef they produce. This is the kind of stuff you are served in the best steakhouses. Pat LaFrieda is the best meat purveyor in NY and they get the best of Creekstone's beef output. Next we top the beef with a lush bearnaise sauce. Finally, we serve this on sweet Hawaiian mini rolls.
Here's How I Make It
First I take the whole beef tenderloin, sometimes referred to as "pismo" or "psmo." This is how filet mignon starts out before its final trimmed form, and is available in the form from your wholesale shopping club like Costco or Sam's Club. Buying from these stores in this form is a great value compared to buying the final trimmed steaks and is quite easy to handle. Breaking down and trimming a pismo is a great way to learn about trimming steaks for a first timer as well.This whole filet needs to be trimmed, with the silverskin and chain meat removed. I could go through the process, but this video gives an excellent rundown on the process. If grilling the whole filet as we did, just skip the final part where he cuts the individual steaks.

Next, after I trim the tenderloin, I take the tapered ends and fold them into the tenderloin and secure them in place with butcher's twine. I do this so that the tenderloin is roughly the same thickness from end to end. This is important for even cooking throughout the steak, otherwise the outer ends would overcook and dry up.
After the filet is butchered and tied up at the ends, I rub it with olive oil and put a nice coating of coarse black pepper and coarse sea salt on it to form a nice crust. It then sits out for about 45 minutes, you don't want to throw a cold piece of meat straight from the fridge right onto the grill.
Now comes the fun part, our caveman roots, cooking meat over fire! Cooking a thick cut of beef like the whole tenderloin presents a challenge. The filet needs to be cooked to a medium rare-medium temperature, any more and the steak will be too dry and overdone. Truth be done, I prefer my filet mignon rare, but when cooking for a crowd medium rare to medium is the safer bet. Also, since we are slicing these so thin, cooking to less than this may pose problems with the slicer. So how do we get a nice dark crust, while getting that inside cooked through to a nice medium-rare/medium? The answer is using the direct/indirect method. We set up the grill with hotter and cooler zones. This is done on a charcoal grill by piling up coals to one side of the grill and leaving one side with no coals. For gas grills, you want to light burners on one side and leave the other side off. This is why I love our Crown Verity grills. They have multiple individually controlled high output burners that run from front to back of the grill, allowing you to easily set up direct and indirect zones.
First the high heat sear. I set up the high heat zone in the center of my grill, turning those burners to high and waiting about 5 minutes for our grill to heat up to around 600 degrees, it will probably take a little longer in your grill. I then place the filet down right on top of those burners and close the hood. After 2-4 minutes I turn the meat to another side and do the same. I repeat this until all 4 sides have a nice sear. This should be done in 8-12 minutes, closer to 8-10.
Second, the indirect cook through. After I am done getting my nice sear and crust on the outside, the meat goes to the indirect zone of the grill. On my grill I turn off those center burners that are underneath the steak and I light the burners on the far ends of my grill. On your grill you may have to take your steak and move it to the far side of your grill furthest from the lit burners. I then close the hood and allow the steak to cook for 10-20 minutes, depending on your grill. You will need an instant thermometer, like the Thermapen
, to monitor your meat temp, this is really the only way to get your steak cooked perfectly. After 8 minutes or so start checking the meat with your thermometer until you reach 125 degrees in the center of the steak. At that point, pull the steak off and allow it to rest for at least 15 minutes, this is crucial!
Once the meat has rested, I run it through a meat slicer. I then whip up a batch of bearnaise sauce using a sauce mix available at any grocery store. Then it is as simple as assembling the sandwiches.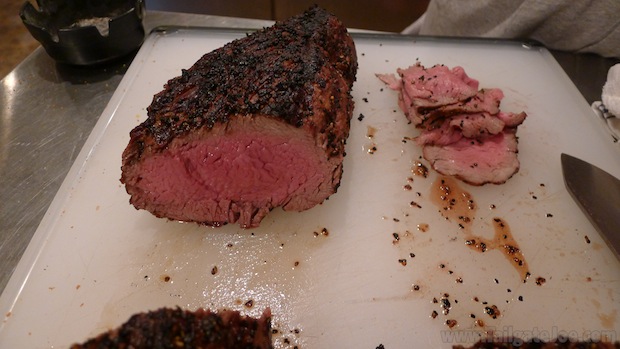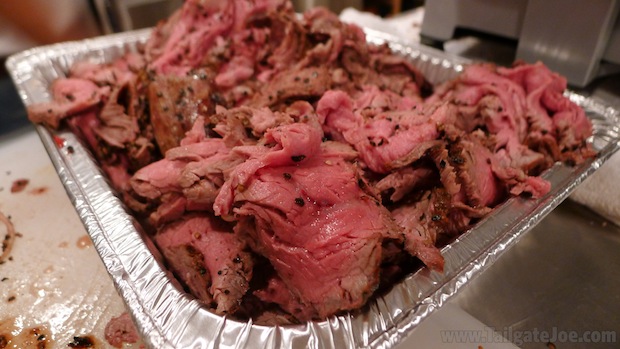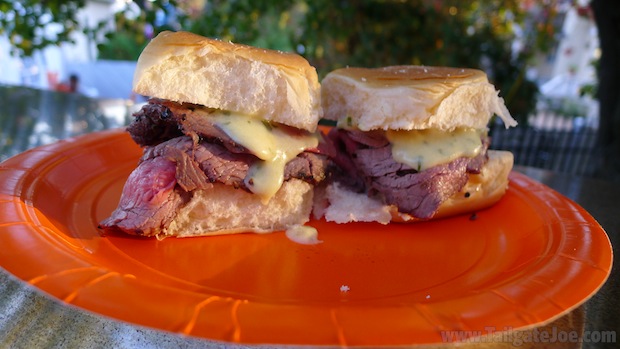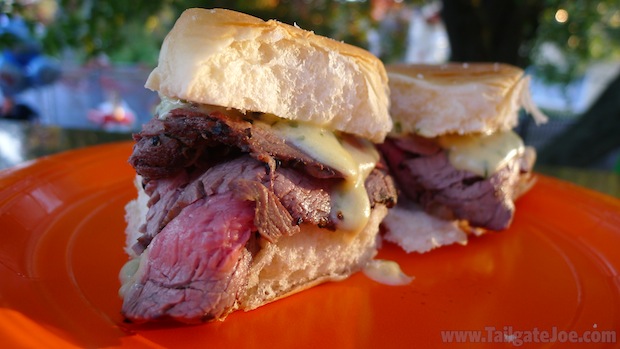 Got any ideas for TailgateJoe? Want to be featured on the site?
We are a site dedicated to the primal nature of man, to gather around the fire, eat, laugh, and drink! If you have any ideas for posts or content for the site drop us a line! Even if the idea sucks a little bit we can usually spit shine it to some degree!
If you are a chef or in the restaurant/hospitality industry, make or market cool guy-toys, or just have something you want featured on TailgateJoe then we want to hear about it. We are always looking for cool content and TailgateJoe is a great promotional outlet for you and your product/service.
Please Share This Post:
Spread the word and help our site grow! Clicking the links below will only take a few seconds and we really appreciate all the help you can give us, especially with twitter and facebook referrals!