Make this the night before for a great dip to serve at the game, and as a spread on burgers and hot dogs, like our Award Winning Sanchize Dog!
Ingredients
3 Haas avocados, halved, seeded and peeled
Juice from 1 lime
1/2 teaspoon course salt
1/2 teaspoon cumin
1/2 teaspoon cayenne
1/2 medium onion, diced, red onion perferred
2 roma or plum tomatoes seeded and diced
1 tablespoon chopped fresh cilantro
1 clove garlic, minced fine
Tips
When buying avocados, look for Haas, they are the ones that are bumpy. To gauge ripeness squeeze it, there should be a little give. If it is rock hard is not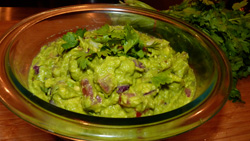 ripe yet. Most supermarkets sell their avocados unripened, while some also offer avocados ripe and ready to be eaten. If you get an unripened avocado, just let it sit on the counter for a few days. To speed up the process toss a few of them into a brown paper bag. To even further increase the sped, toss in an apple or banana with the avocados into the bag. FYI, unripened avocados will NEVER ripen in the fridge!!
Directions
Halve, seed, and peel the avocado
(video)
Seed and dice the tomato
(video)
Place scooped avocado into a large bowl with lime juice and toss the halves to coat
Using a fork or potato masher, begin to break up the avocado, while adding the salt, cumin, and cayenne.
Continue mashing until a nice chunky texture is reached
Fold in the remaining ingredients, being careful not to puree the avocado
Let sit for 30 minutes to an hour at room temperature.
Optional additions
You can add diced up crumbled crispy bacon, fine diced jalapenos, fine diced green onions, and/or crumbled cotija cheese to kick it up.
Got any ideas for TailgateJoe? Want to be featured on the site?
We are a site dedicated to the primal nature of man, to gather around the fire, eat, laugh, and drink! If you have any ideas for posts or content for the site drop us a line! Even if the idea sucks a little bit we can usually spit shine it to some degree!
If you are a chef or in the restaurant/hospitality industry, make or market cool guy-toys, or just have something you want featured on TailgateJoe then we want to hear about it. We are always looking for cool content and TailgateJoe is a great promotional outlet for you and your product/service.
Please Share This Post:
Spread the word and help our site grow! Clicking the links below will only take a few seconds and we really appreciate all the help you can give us, especially with twitter and facebook referrals!