For the 10/12/14 Jets game vs the Broncos we are doing a "Italian Tailgate" theme for Columbus Day weekend. I wanted to come up with something special for the burgers with an Italian twist. The obvious choice was to go the route that every diner in the country has as an Italian burger and just smother them in pizza sauce and cheap slicing mozzarella. But c'mon, has anyone in the history of diners ever had and really enjoyed one of those abominations?
My answer is the Jets-Pesto Burger. Quite simply, it starts out as all the burgers I serve do, with an amazing beefy base of Lafrieda burger blend beef ground fresh for me, chuck/short rib/brisket. To that I make a pesto sauce with the usual components, basil, olive oil, Parmesan cheese, garlic, and pine nuts. There are plenty of easy pesto recipes so go check them out. Then once that is made, it gets folded into ricotta cheese. What you end up is a garlicy, creamy, masterpiece.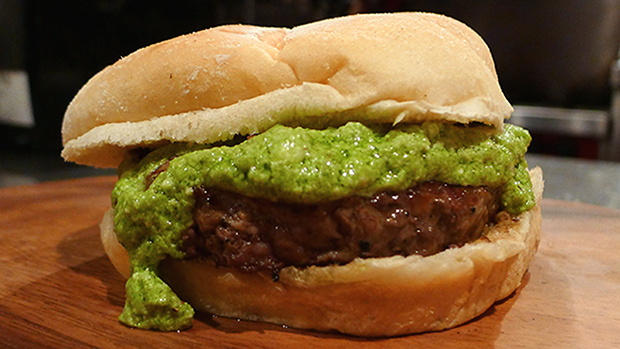 Got any ideas for TailgateJoe? Want to be featured on the site?
We are a site dedicated to the primal nature of man, to gather around the fire, eat, laugh, and drink! If you have any ideas for posts or content for the site drop us a line! Even if the idea sucks a little bit we can usually spit shine it to some degree!
If you are a chef or in the restaurant/hospitality industry, make or market cool guy-toys, or just have something you want featured on TailgateJoe then we want to hear about it. We are always looking for cool content and TailgateJoe is a great promotional outlet for you and your product/service.
Please Share This Post:
Spread the word and help our site grow! Clicking the links below will only take a few seconds and we really appreciate all the help you can give us, especially with twitter and facebook referrals!