TailgateJoe has their own exclusive beer for the 2011 season!
Kelly and the gang over at microbrewery Kelso of Brooklyn got a hold of some small batch barrels last summer and decided to come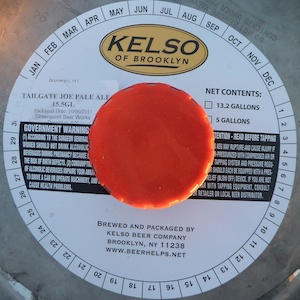 up with something special for us this season. He knows I like their IPA, so he created a special "Belgianish" spicy pale ale.  It was crafted to be easy to drink and go well with the grill items we serve at our parties. This beer was created using their small batch barrels and as such we have 12 kegs for the season. The beer was kegged on 10/6/11, so it is nice and fresh, as all of the beer I get directly from the Kelso brewery is. We will be serving TailgateJoe IPA at our parties throughout the season. This beer is exclusive to us, so stop by and have one!
About Kelso of Brooklyn:
Got any ideas for TailgateJoe? Want to be featured on the site?
We are a site dedicated to the primal nature of man, to gather around the fire, eat, laugh, and drink! If you have any ideas for posts or content for the site drop us a line! Even if the idea sucks a little bit we can usually spit shine it to some degree!
If you are a chef or in the restaurant/hospitality industry, make or market cool guy-toys, or just have something you want featured on TailgateJoe then we want to hear about it. We are always looking for cool content and TailgateJoe is a great promotional outlet for you and your product/service.
Please Share This Post:
Spread the word and help our site grow! Clicking the links below will only take a few seconds and we really appreciate all the help you can give us, especially with twitter and facebook referrals!