This past summer, while competing in The Great Hot Dog Cookoff, I had a chance to meet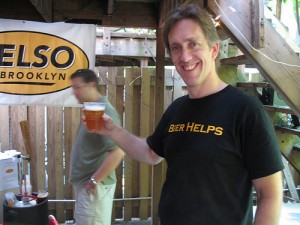 Kelly, owner and brewmaster of Brooklyn's true microbrewery, Kelso of Brooklyn. Kelso was a lead sponsor for the cookoff and the charity event that day, providing not only the space for the event, but some great ice cold Kelso beer.
Flash forward a few months to the Jets/Vikings Monday night game this October, and when Kelly heard about the fundraiser we were doing for the Leukemia & Lymphoma Society (where we raised over $500.00) and beer pong tournament, he was down to support us. If you take a look at their site, or follow them on facebook or twitter, which you should by the way, you will see that Kelly and his gang are interested in not only making the freshest, greatest beer you can buy, they are also interested in working with charities and lots of grassroots groups in sustainable locally grown and produced foods. They truly have a great attitude over at Kelso, in addition to making some killer beers. We were very excited to have them as the official beer of the TailgateJoe Beer Pong Tournament, and everyone loved the two Kelso varieties we served that day. We hope to have them back for a few more games!
Here are a few words from Kelly about Kelso and the beers we served at the tailgate party.
About Kelso of Brooklyn:
Brewmaster Kelly Taylor & his wife Sonya Giacobbe (Kel + So) opened Kelso in the Clinton Hill section of Brooklyn in 2006. Their focus & dedication is to bringing New Yorkers extraordinary lagers which highlight the simple beauty of
well crafted, local beer. You can find their Pilsner, Nut Brown lager, St. Gowanus Belgian, as well as various seasonals throughout bars & restaurants around NYC. A lifelong Seahawks fan, Kelly fully appreciates what is means to be a Jets fan in NY & is happy to contribute in a small way to what is already a great season.
About the Beer:
CarrollGaarden Wit: This was the first of our Brewer's collaborative line. Our brewers flavored this classic Wit style with traditional flavors of coriander & dried orange peel and added a little Brooklyn twist. The flavor is spicy, crisp, citrusy and refreshing. Perfect for a tailgate–tasty enough to put a few back and yet still have room for some more during the game.
St. Gowanus: Belgian Style Golden Ale. This spicy, fruity, and smooth beer is a great blend of a Belgian golden ale and an American pale ale. 5.75% alc/vol.
Pilsner: Floral nose, slightly sweet, with a dry finish. Classic European pils. 5.5% alc/vol
Please support these guys, swing by there site and if you are on twitter or facebook follow or like them, they are doing great things and are friends of ours! Thanks.
Got any ideas for TailgateJoe? Want to be featured on the site?
We are a site dedicated to the primal nature of man, to gather around the fire, eat, laugh, and drink! If you have any ideas for posts or content for the site drop us a line! Even if the idea sucks a little bit we can usually spit shine it to some degree!
If you are a chef or in the restaurant/hospitality industry, make or market cool guy-toys, or just have something you want featured on TailgateJoe then we want to hear about it. We are always looking for cool content and TailgateJoe is a great promotional outlet for you and your product/service.
Please Share This Post:
Spread the word and help our site grow! Clicking the links below will only take a few seconds and we really appreciate all the help you can give us, especially with twitter and facebook referrals!