12/01/2014 Jets Tailgate Party, Dolphins at New York Jets
Register Here! $50. Also, we have a limited number of VIP private tents with private beer service and waitress available. Email Joe@tailgatejoe.com for info on availability for this game.
We have had to turn away gameday walk-ups at a certain point every game this season, so sign up online if possible.
The New York Jets 2014 season continues as face the Miami Dolphins on Monday Night Football!! MNF is always a little extra special, and we go a little more all-out on the menu. The menu is still being worked out, but will include Mom's meatball sliders and some other great stuff, possibly a new burger and another new specialty dish never served before. This party will probably be capped to a smaller number of attendees, so make sure you sign up online! Every week this season we have had to close down the walkups and I don't want to disappoint anyone this week hoping to join us.
You will definitely want one of these….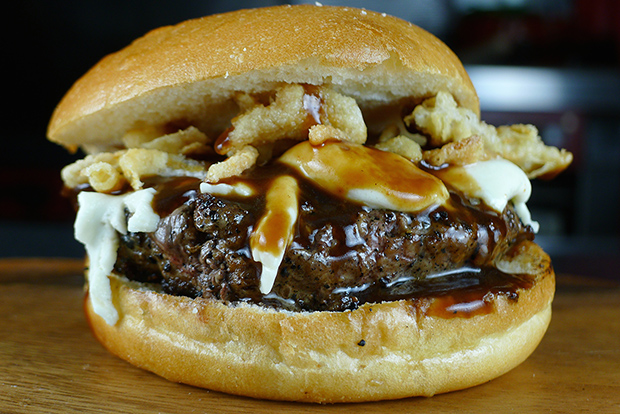 The Tailgate Menu
Meatball sliders, I put mom to work making a huge pot of meatballs simmering in a slow cooked tomato sauce
The Best Chili Dog Ever! Our award winning hot dog chili makes the best chili dog you have ever had.
Andouille Sausage & Chicken Jambalaya, a new dish we are serving for the first time ever at a TGJ party
Grilled Polish Sausage, with home made pepper jelly
Specialty Burger……The "Thank You Subway" burger, an homage to John's Deli, using fresh Mozzarella from Fiore's of Hoboken, the best there is!
BBQ Baked Beans
On Tap chillin' in the kegerator:
Kelso of Brooklyn
Miller Light
other domestic/premium possibilities.
Kelso of Brooklyn is a local NYC craft beer brewer. Their beers are only available in draft by the keg and served at NYC's better restaurants and bars. We are pleased to work with Kelso as the Pour of Choice for all Tailgate Joe home games.
Location: We arrive and set up 5 hours before kickoff, and generally have food and beer flowing within a half hour. Our location is Green Lot E10, along the curb. We are conveniently located near the stadium. Generally, we have things going 8:30-12:30 for a 1pm game. More info on our location is here.