TailgateJoe 2013 Season Schedule
(links to register online will continue to be added)
For those new to TailgateJoe, check out this page for good info.
It's finally here, another season! Every year it seems like the offseason gets longer. Hopefully, our next offseason won't start until February! Hey, sometimes being a fan involves suspending reality, right?
A couple quick notes about this season:
This year we are going back to Brown Paper Tickets ticketing service to handle the online registrations. After using a different platform last year, we found that BPT had the best setup and smoothest experience for users.
Attendance cutoffs. We will be actively managing the size of our tailgate parties this year, and keeping the crowd size manageable. This means we can not always promise people walking up will be able to participate in the food, and in likelihood we will be stopping walkups at some point for a few games this year as we did last season. Anyone who prepays the donation online is guaranteed though, so as long as you sign up online you are good to go!
Season Pass
Includes all 8 home games for the regular season.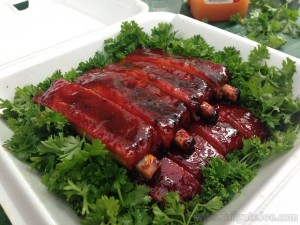 We have always wanted to make the Season Pass a little extra special since these are the TGJ fan club members who are at every game every year. This season we are going to accomplish that with a little extra benefit! As some of you know, TGJ has been getting into the Competition BBQ circuit and doing pretty well. Cooking perfect competition quality ribs is a painstaking process that takes hours, from the custom blend rub, to the scratch made sauce and glaze, to trimming them to be picture perfect, and smoking them in our commercial smoker for over 3 hours. Unless you compete or judge these competitions, you have likely never had ribs this good. Well, for 2 games we will be firing up the smoker and our Season Pass holders will get to pick which game they get to enjoy a half rack of our Competition St Luis Ribs.
$200, offered until start of season.
$80 savings off the online discount donation, PLUS you get some awesome ribs!
Register Here
Regular Season
Week 1
Tampa Bay Buccaneers
Sun, 09/08 at 1:00 PM EDT
Tailgate 8:30am-12:30pm
Menu and gameday info
Home: MetLife Stadium
$35 online/$40 gameday(limited availability)
Register Now
Week 3
Buffalo Bills
Sun, 09/22 at 4:25 PM EDT
Tailgate 12:30pm-4:15pm
Menu and gameday info
Home: MetLife Stadium
$35 online/$40 gameday(limited availability)
Register Now
ALL HOME GAMES TO BE ADDED AS THE SEASON PROGRESSES, CHECK BACK FOR MORE GAMES!
We are considering our away games for the season. If you have an interest in an away game or have a group going then contact us and we will see if we can organize a party.
All time subject to NFL scheduling, if any game times are changed than our party will change accordingly.
Do to the nature of provisioning for each game, we can not offer refunds. We are at every game rain/shine/sleet/snow.