Everyone that has been to a TailgateJoe Jets tailgate party knows that I take the food I serve seriously, buying the best ingredients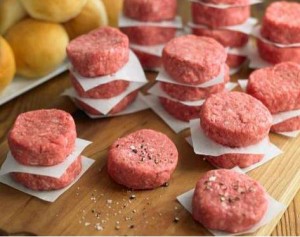 possible and making much of the food from scratch myself. This is definitely not the cheapest way to do things, but it is how I do things. For the last 3 years I have been searching for the perfect burger for the parties, using multiple sources to try and find something I would be proud and excited to serve. I have finally found that source, Pat LaFrieda Meat Purveyors.
For those of you who don't know, Pat LaFrieda is considered "New York's Butcher." They provide the best chefs in NYC with the best meat you can buy. He custom blends different cuts of beef to make some of the tastiest hamburgers ever served up in places like Shake Shack, BLT Burger, % Napkin Burger, and Minetta Tavern. LaFrieda will be providing TGJ with "bigger than 1/3lb" fresh patties made from a blend of chuck, short rib, and brisket.
Some more on Pat LaFrieda
Got any ideas for TailgateJoe? Want to be featured on the site?
We are a site dedicated to the primal nature of man, to gather around the fire, eat, laugh, and drink! If you have any ideas for posts or content for the site drop us a line! Even if the idea sucks a little bit we can usually spit shine it to some degree!
If you are a chef or in the restaurant/hospitality industry, make or market cool guy-toys, or just have something you want featured on TailgateJoe then we want to hear about it. We are always looking for cool content and TailgateJoe is a great promotional outlet for you and your product/service.
Please Share This Post:
Spread the word and help our site grow! Clicking the links below will only take a few seconds and we really appreciate all the help you can give us, especially with twitter and facebook referrals!