Last season we came up with our first signature burger, the TGJ Lot Burger. It was a big hit when we served it at our parties. For the end of the 2013 season I wanted to do another special burger, and here it is, The Tailgate Double. I have to shamefully admit my most guilty food pleasure, fast food burgers. My favorite of these terrible foods is the Big Mac. The Tailgate Double is my grown up, chef'd up version of this classic fast food icon. I'll stack this burger head to head with Shake Shack, Five Guys, or any other fast food burger!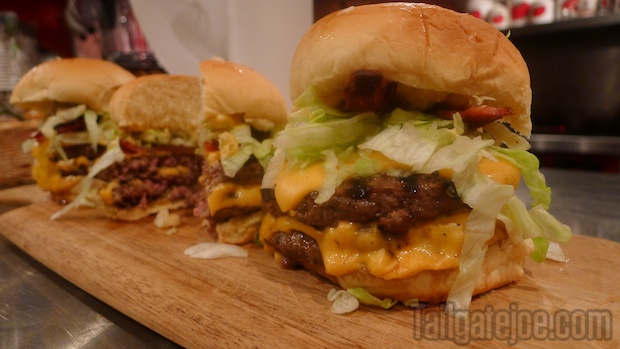 How It's Made:
The beef: Just like every burger we serve at our tailgate parties, we start off with a custom Lafrieda blend of short rib/brisket/chuck. The meat is ground fresh to order. The patties in the Double are (2) 4oz flat patties for a total of 8oz which we quickly grill on our 800 degree grills, searing and locking in the juices.
The cheese: Since we are going for an American classic burger here, American cheese is a no brainer. Each patty gets a thick slice. There is lots of oozing down the sides here!
Secondary meat: Bacon yo, no need to even give a reason for its inclusion.
The condiment: Another homage to the Big Mac, this burger uses my Mac Attack Sauce. We give a nice smear to both the top and bottom of the bun halves.
From the garden: Onions are easily my favorite topping for a burger, so we have finely diced white onions here, a scoop goes on top of the sauce on both halves of the bun. Then there is a nice little pile of fresh shredded iceberg lettuce to give some crunch and bite.
The bun: Between the sauce, the cheese, and especially the juices from those two patties, we needed a substantial bun and we chose a Martin's potato roll.
This is a pretty easy burger for you to recreate at home, so if you can't wait for a TailgateJoe party to get your fix, give it a go at home.
Got any ideas for TailgateJoe? Want to be featured on the site?
We are a site dedicated to the primal nature of man, to gather around the fire, eat, laugh, and drink! If you have any ideas for posts or content for the site drop us a line! Even if the idea sucks a little bit we can usually spit shine it to some degree!
If you are a chef or in the restaurant/hospitality industry, make or market cool guy-toys, or just have something you want featured on TailgateJoe then we want to hear about it. We are always looking for cool content and TailgateJoe is a great promotional outlet for you and your product/service.
Please Share This Post:
Spread the word and help our site grow! Clicking the links below will only take a few seconds and we really appreciate all the help you can give us, especially with twitter and facebook referrals!