Back over the summer, Team TailgateJoe competed in their first cooking competition, The Great Hot Dog cookoff. Well, despite being the second to last hot dog to be judged, we came in 2nd place overall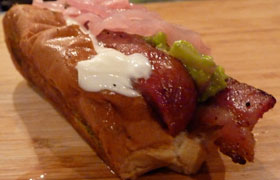 out of 20 chefs, most of which were returning competitors and past champions. We are pretty happy with our first dip into the competitive cooking arena, and plan on knocking it out of the park next summer, as well as competing in a few other competitions.
The hot dog we served is a competition spec Mexican Hot Dog we normally serve, which we dubbed "The Sanchize" in honor of Jets qb Mark Sanchez. We added a few components, stepped up the quality of a few, and went with a larger frank in coming up with our award winner. Here is how we make it.
Ingredients:
Hot dogs, we used a Nathans 1/4 lb hot dog, and good full flavored all beef thick frank will do
Slab bacon sliced thick, we used the same guy who makes the bacon Peter Luger's uses, just buy the best quality double smoked slab bacon you can and slice it thick
Joe's home made guacamole
Sour cream
cotija cheese, can be found in most supermarkets or mexican grocery stores
1 pound unsalted butter, softened
1 large bunch cilantro leaves, washed and dried, around 3 cups firm packed
1 teaspoon salt
1/4 teaspoon black pepper
split top new england style hot dog or lobster roll buns, wegmans and pepperidge farm are popular brands nation wide
Directions:
Make the cilantro butter, combine butter (cubed), salt, pepper in a food processor for 2 minutes to blend. Can be stored in a ziplock bag
Butter the outside sides of the buns with cilantro butter and grill or place in pan to toast
Grill bacon strips
Grill hot dogs, this should not need an explanation
Lay bacon strip along one side inside bun
Spread Guacamole along the opposite side inside the bun
Place dog in bun
Top with sour cream, then pickled red onions, and crumbled cotija cheese
Stick it in your mouth-hole already!!!
Here is a few pics of the Sanchize dog, along with some pics of the other entries and the event.
Got any ideas for TailgateJoe? Want to be featured on the site?
We are a site dedicated to the primal nature of man, to gather around the fire, eat, laugh, and drink! If you have any ideas for posts or content for the site drop us a line! Even if the idea sucks a little bit we can usually spit shine it to some degree!
If you are a chef or in the restaurant/hospitality industry, make or market cool guy-toys, or just have something you want featured on TailgateJoe then we want to hear about it. We are always looking for cool content and TailgateJoe is a great promotional outlet for you and your product/service.
Please Share This Post:
Spread the word and help our site grow! Clicking the links below will only take a few seconds and we really appreciate all the help you can give us, especially with twitter and facebook referrals!