Right now there is a recipe making the rounds on the bbq/smoking message boards that people are calling "pork shots" or "pork candy." It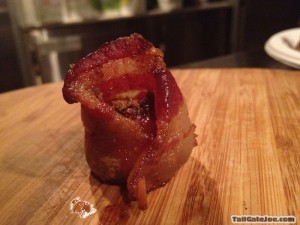 basically consists of taking a slice of sausage, like kielbasa, and wrapping a strip of thick bacon around it to form a little pork cup and then filling it with some kind of spice mixture. It's a pretty awesome idea. I am going to be experimenting with this idea trying different spice/filling ideas. Here is the basic sweet and spicy version that has been pretty popular so far. (Thanks to a thread on smokingmeatforums from poster solaryellow for the spice formula)
Bacon-Sausage Bites, Sweet and Spicy
Kielbasa
Thick cut bacon
1 1/2 cups brown sugar
2 tsp homemade chipotle powder
2 tsp paprika
1 1/2 tsp granulated garlic
1 1/2 tsp onion powder
toothpicks
Slice sausage into rounds about 1/2 thick or about half the width of your bacon
Cut bacon strips to size to wrap around sausage round with a little overlap
Wrap bacon around sausage round and stick toothpick at overlap going through sausage to hold bacon to it
In a bowl combine and mix spices thoroughly
Fill each pork cup with 1 to 1/2 spice mixture
a)If you have a smoker, toss on at 230 degrees and smoke until bacon is crisp
b)If you have a grill, cook over indirect heat by leaving burner under pork cups unlit, on low to medium heat until bacon is crisp
Tips
the best bacon to use slab bacon that you slice thick yourself
If using store sliced bacon, buy the thickest possible
You may need to paper towel the bacon a bit if it is overly slippery
these are spicy, you can cut down on the chipolte and paprika if needed
The key is to cook them low and slow so as not to burn the brown sugar but to caramelize it while crisping the bacon.
An oven at 250 can be used as well
The smoker using some wood chunks would be the best option if possible
Got any ideas for TailgateJoe? Want to be featured on the site?
We are a site dedicated to the primal nature of man, to gather around the fire, eat, laugh, and drink! If you have any ideas for posts or content for the site drop us a line! Even if the idea sucks a little bit we can usually spit shine it to some degree!
If you are a chef or in the restaurant/hospitality industry, make or market cool guy-toys, or just have something you want featured on TailgateJoe then we want to hear about it. We are always looking for cool content and TailgateJoe is a great promotional outlet for you and your product/service.
Please Share This Post:
Spread the word and help our site grow! Clicking the links below will only take a few seconds and we really appreciate all the help you can give us, especially with twitter and facebook referrals!