Today I am playing around with a new cut of beef for the first time, tri-tip. It is a small roast that comes from the bottom sirloin and weighs about 2lbs per side of beef. Now, most of you are probably scratching your heads and thinking "why have I never heard of this cut of beef before?" Well, that is because almost all of it is sent to the central coast region of California, around Santa Maria, CA. IT is next to impossible to find here in NY or the east coast in general. I have been grilling and eating out in restaurants forever but have never seen it in any market or on any menus in NY. Of course, in my quest to come up with and develop the best dishes for my tailgate parties, I dug up a source of awesome all natural tri-tip.
The traditional method of preparation for this cut is a rub of pepper, chiles, and garlic, then grilled whole over a wood fire, and sliced across the grain before serving. This is the "Santa Maria Style" tri-tip as it is usually served. I used some of the traditional flavor profile, but put a little spin on it. I also did a completely different version in the name of culinary awesomeness, with a teriyaki marinade. Then I sliced them up and made some awesome sandwiches.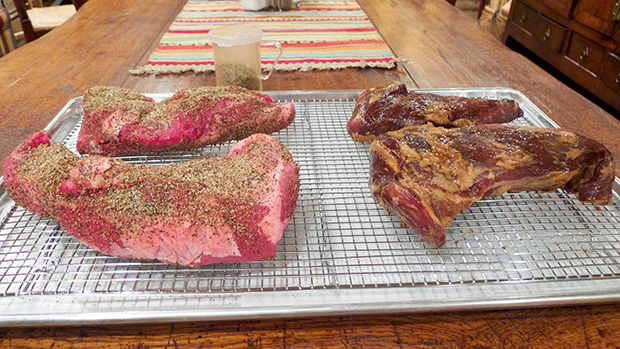 For the santa maria style, I used a rub that stayed true to the traditional flavor profile featuring fresh ground pepper and ancho chile, garlic, onion, and parsley flake. I then smoked the roast in my Cookshack FEC120 smoker with hickory wood set to a cooking temp of 180 degrees until the meat hit 110 internal temperature. Now, for most of you bbq heads, 110 sounds way low, but this is NOT a traditional bbq cut like brisket that needs to be cooked to 200 degrees. Think ribeye or filet mignon, not brisket, you want to serve this medium rare at around 130-135 degrees. Once I hit 110 degrees, off the smoker it came and onto a hot Crown Verity grill it went for a quick sear and to get to an internal temp of 125-130, allowing carryover heat to continue cooking another 5 degrees. After a nice rest, I ran it through the electric slicer nice and thin. I then served them with some caramelized onions and some blue cheese crumbles on a fresh custom baked Royal Crown Bakery bun.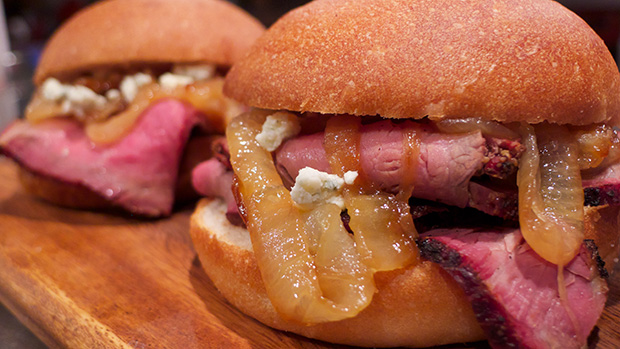 Next, I went a little more outside the box with a teriyaki version. I soaked the roast in my favorite teriyaki marinade for 24 hours. Once the delicious sweet Asian flavor bath was complete, on to the smoker it went. My cooking process was the same as the santa maria above, with using the smoker to reach 110 and then finished off on the grill. The combination of teriyaki marinade, smoke, and fire kissed grill produced a beautiful piece of meat with the most delicious red color I have ever seen.
Once it rested and cooled, I sliced it up and piled it up on the same rolls with an Asian red cabbage ginger slaw.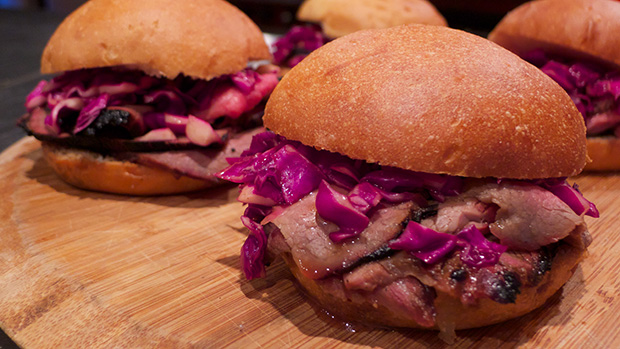 These sandwiches where awesome. They weren't quite as tender as the filet mignon whole tenderloins we serve, but they are still quite tender and have some awesome flavor, while being more affordably priced than whole filet tenderloins. I am definitely going to play around with tri-tip a bunch more and looking forward to serving these at some of our tailgate parties and events.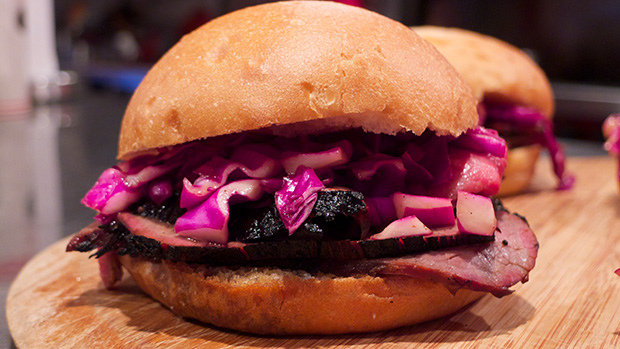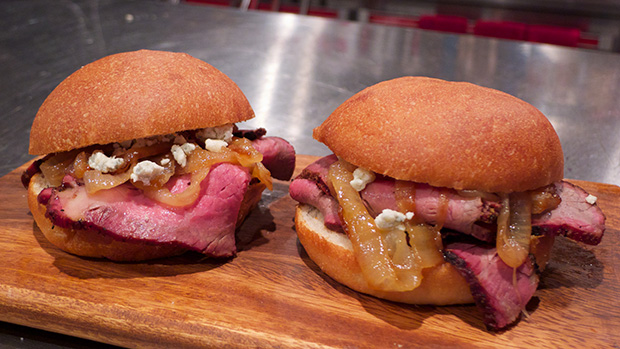 Got any ideas for TailgateJoe? Want to be featured on the site?
We are a site dedicated to the primal nature of man, to gather around the fire, eat, laugh, and drink! If you have any ideas for posts or content for the site drop us a line! Even if the idea sucks a little bit we can usually spit shine it to some degree!
If you are a chef or in the restaurant/hospitality industry, make or market cool guy-toys, or just have something you want featured on TailgateJoe then we want to hear about it. We are always looking for cool content and TailgateJoe is a great promotional outlet for you and your product/service.
Please Share This Post:
Spread the word and help our site grow! Clicking the links below will only take a few seconds and we really appreciate all the help you can give us, especially with twitter and facebook referrals!