TGJoe started out much like your ordinary tailgate. Before the trailer, the 6 ft commercial grill, the kegs, their was a handful of friends, 4-10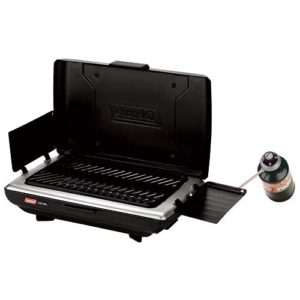 on any given day. The first tailgate toy purchased for these game day get togethers was the Coleman PerfectFlow Grill
. At the time, the PerfectFlow was really all Coleman offered as far as portable grills. Since then they have followed up with a Whole lineup of "tailgate grills." I have had the chance to get in front of a few of these grills, and even with all the bells and whistles of the new ones, I still think there is no better small grill than the PerfectFlow.
Some of the things I like about the PerfectFlow:
1) Most importantly, I like that it has a grate and an actual fire poking underneath. A lot of the newer tailgate grills kind of seal the top, with the burners heating a griddle plate from underneath. I find this leaves a large amount of cold space on the cooktop and leads to slower cooking, especially in the colder weather.
2) 11,000 btus, not a lot of heat compared to the 159,000 btu behemoth we use today, but plenty of heat for this small grill.
3) It will fit in any car, no suv needed.
4) The perfect size for small groups of 2-10. The grate is the perfect size to grill up 4 large burgers, a bunch of dogs, or a thin Italian sausage ring. We never found capacity to be an issue for our small group.
5) Compact fuel cannisters. No need to lug a bag of charcoal, lighter fluid, a chimney starter, newspaper and lighter fluid, or large home bbq propane tanks. Two or three of the compact Coleman fuel cans is all you need.
And here are specs from the Coleman site:
•    •  Open-flame grilling on a Family Sized – 180 square inch cooking surface area
•    •  BTU: 11,000 BTU tube burner
•    •  PerfectFlow™: Pressure-control system
•    •  WindBlock™: Wind shielding system for maximum heat
•    •  Spacious 180-square-inch cooking surface
•    •  Easty to clean, removable porcelain coated grill grate
•    •  Grease-management system with removable dishwasher-safe tray
•    •  Color: Black
•    •  Dimensions: 21″L X 12.5″W X 5.6″H
Now don't get me wrong, this is not the grill to throw huge thick steaks on, and if you are regularly larger than 8 people I would suggest something bigger, but for its intended purpose, there isn't a better mini tailgate grill, and for the price it can't be beat.
You can take a look at the Perfectflow on amazon here!
Got any ideas for TailgateJoe? Want to be featured on the site?
We are a site dedicated to the primal nature of man, to gather around the fire, eat, laugh, and drink! If you have any ideas for posts or content for the site drop us a line! Even if the idea sucks a little bit we can usually spit shine it to some degree!
If you are a chef or in the restaurant/hospitality industry, make or market cool guy-toys, or just have something you want featured on TailgateJoe then we want to hear about it. We are always looking for cool content and TailgateJoe is a great promotional outlet for you and your product/service.
Please Share This Post:
Spread the word and help our site grow! Clicking the links below will only take a few seconds and we really appreciate all the help you can give us, especially with twitter and facebook referrals!