Anyone who has been to one of our Tailgate Parties since 2011 has seen the massive commercial stainless steel grills we use to grill up lots of great fresh food for the masses. These grills come from Crown Verity, a company known for quality commercial grade grills and outdoor cooking products manufactured in Canada. For those who have not seen it, we posted an announcement at the beginning of the 2012 season that Crown Verity is the Official Grill of TailgateJoe. Today I want to talk about the one we have had the longest, and the workhorse grill in the TailgateJoe gear lineup, the Crown Verity MCB72.
The MCB72 as of this writing is the biggest grill in the Crown Verity lineup. Here are the quick stats for the numbers geeks:
MCB72 Stats
Number of burners: 10
BTUH: 159,000
Weight: 253lbs
Gas Connections(LP): 2
Cooking Surface: 70″Lx21″D
Overall Dimensions: 81″Lx28″Dx36″H
You can see from those stats that this is a serious grill, both in size and in capability. Over the course of 2 and a half seasons using the MCB72, we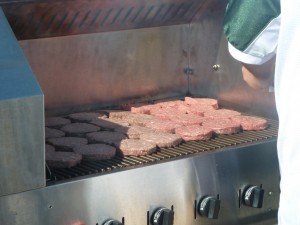 have put our MCB72 through it's paces, using it as the only grill to cook for over 300 people for 4-5 hour all-you-can-eat events and in outdoor weather conditions with snow, rain, and temps at the freezing level. Whatever conditions we have thrown at this grill, it has come through with shining colors, putting out great food every time.
I am not going to go into the specifics of the way the MCB72 is built, there is plenty of info on the Crown Verity site and is definitely something you should look over as it is quite impressive. I am going to concentrate on how we use the grill in real world situations.
The MCB72 puts out an insane amount of BTUs, 159,000. This horsepower means that the grill will heat to over 800 degrees in well under 10 minutes, getting you up to cooking temperature quickly. The layout of 10 evenly spaced burners running front to back and 2 separate roll domes means I can configure the expansive grilling surface in any number of ways depending on what I am trying to do. During a typical event, my day starts off with cooking massive amounts of food as quickly as possible. This means throwing tons of burgers, hot dogs, and sausages on the grill, using all available space. Burgers get the highest heat possible, as it is all about getting a sear on the burgers as quickly as possible and keeping them juicy and delicious. Sausages and hot dogs get medium to low heat depending on the thickness. The placement of the burners allows me to easily fine tune the flame to the rows of food on the grill. Once I get a big quantity of food cooked up, I get to really utilize the MCB72's advantages. I will take one half of the grill with its own roll dome and turn that into a holding oven. The grill is deep enough and the domes high enough that you can stack a few full size hotel pans front to back. I stack up pans of food on one side of the segmented grill without any of the burners under it lit. I then light 1-2 of the burners on the other side of that half of the grill on low, keeping the temps around 160. This allows me to keep a lot of food warm and ready to serve as the crowd dictates no matter the outside temps. This feature is what sets the MCB72 apart from all those cheaper "commercial" grills on the market and flooding the big discount warehouse clubs.
Another great feature is the dual propane tank system used by the MCB72 . This grill uses 2 standard 20lb propane tanks, each fueling one half of the grill. The first obvious benefit to this setup is that you have plenty of fuel to feed those 10 burners for any event. The second less obvious benefit is that you have some equipment failure insurance. Now, while these Crown Verity grills are built strong and we have never had any failure in the 2 1/2 years in service, we have been doing this long enough to know that things happen. It is always a concern that you will show up on site and suffer an equipment failure. It has happened in the past with other grills, sending us scrambling in the lot to beg and borrow. With the MCB72, and all of the Crown Verity MCB line from the 48 and up, the dual tank system helps alleviate those concerns. The dual tank system means that the MCB72 is really 2 grills sharing the same frame, with 2 completely separate systems. It would be a lot more work having only half of the grill working, but it would still be possible to get through the event. It is very comforting to know that I have 2 systems and much less of a chance of complete mechanical failure.
We love our Crown Verity grills, both our MCB72 and our newer MCB48 (look for that review soon). They truly have been an immense help and instrumental in allowing us to both grow the size of the parties we do as well as the array and quality of food we can put out. We know that we have the finest equipment in the lot and the grilling enthusiast guests we have are always impressed with what we do with them. The grill area is always a popular spot for our guests to congregate. We are so pleased we have been able to establish a relationship with such a great company that puts out a great product.
If anyone has any questions about this grill or any equipment in the Crown Verity line feel free to leave a comment here or shoot me an email at joe@tailgatejoe.com. Also, if you are interested in picking up one of these grills for yourself shoot me an email, I can put you in touch with the US sales manager who will take great care of you and hook you up with my personal discount which is substantial.
Got any ideas for TailgateJoe? Want to be featured on the site?
We are a site dedicated to the primal nature of man, to gather around the fire, eat, laugh, and drink! If you have any ideas for posts or content for the site drop us a line! Even if the idea sucks a little bit we can usually spit shine it to some degree!
If you are a chef or in the restaurant/hospitality industry, make or market cool guy-toys, or just have something you want featured on TailgateJoe then we want to hear about it. We are always looking for cool content and TailgateJoe is a great promotional outlet for you and your product/service.
Please Share This Post:
Spread the word and help our site grow! Clicking the links below will only take a few seconds and we really appreciate all the help you can give us, especially with twitter and facebook referrals!