Yeah you read right, and yeah it is really gross…….
So last week I was down in West Palm Beach, Florida kickin' it with some friends. The South Florida Fair was going on, and there was a bunch of tv spots on various news channels talking it up. One of the biggest attractions at these state/county fairs is the oddball food sold at the concessions. Apparently the biggest thing going these days on the fair circuit is the donut burger. This is pretty much a burger with a donut as the bun. With all the press this thing got, I decided I had to make an attempt at trying one, even though it just didn't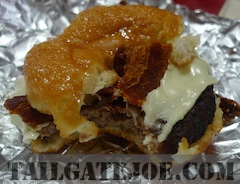 in any way really sound appealing. As you can see from these pics, the burger was pretty shitty. After waiting ten minutes for it to arrive, I was a little shocked to see I was being served something that looked like it had been made hours ago. I am guessing it was a super cheap 4oz frozen burger patty that you get from the typical restaurant supply store that had the life cooked out of it and resembled (and tasted like, a hockey puck. It was topped with a slice of processed cheese and 2 strips of bacon that had the consistency, and flavor,of tree bark. This was all sandwiched into a stale glazed doughnut. I took one bite and my friend Tony took one bite and then off to the garbage it went, with me feeling stupid for wasting the 6 bucks on it.
So, fast forward to today. I happened to have this box of doughnuts laying around so I figured what the hell. Maybe I could do a much better job. Here is the list of ingredients and some pics and video of the process.
Ingredients
8 ounces ground angus sirloin
4 pcs bacon
2 slices american or cheddar cheese
1 fresh glazed donut, larger ones work best
Salt, pepper, garlic powder to taste
Directions–like this is really needed!
Fry the bacon in a pan then place to the side
Shape the meat into a patty. A trick i learned when making fresh burgers is to make an indent on top of the patty, this allows the burger to expand as it cooks without looking like a ufo with a big dome
Season with garlic powder, salt, and pepper to taste. (What I also did ws take a small piece of uncooked bacon and placed it on the indent of the burger to inuse some more bacon flavor as it cooks, just toss it off before putting the cheese on.)
Grill the burger and throw the cheese on at the appropriate time near the end of cooking.
Split the donuts, and assemble the parts
Schedule appointment for angioplasty as soon as possible
Got any ideas for TailgateJoe? Want to be featured on the site?
We are a site dedicated to the primal nature of man, to gather around the fire, eat, laugh, and drink! If you have any ideas for posts or content for the site drop us a line! Even if the idea sucks a little bit we can usually spit shine it to some degree!
If you are a chef or in the restaurant/hospitality industry, make or market cool guy-toys, or just have something you want featured on TailgateJoe then we want to hear about it. We are always looking for cool content and TailgateJoe is a great promotional outlet for you and your product/service.
Please Share This Post:
Spread the word and help our site grow! Clicking the links below will only take a few seconds and we really appreciate all the help you can give us, especially with twitter and facebook referrals!