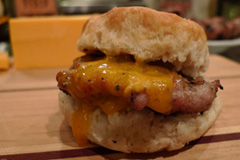 Today we have a great, quick, and easy sausage recipe. Sausage is great fat guy food, and as such should be a staple of everyone's tailgate. The best part about making your own sausage is you know exactly what is in it. Everyone has had bad or funky sausage before, you take a bite and it tastes like there are a few chunks of ass in it, which it probably does because a lot of sausage really is just spiced up lips and assholes stuffed into an intestine tube, YUM!! Anyway, here is the recipe…
BY THE WAY, WE WILL BE SERVING THESE SANDWICHES AT THE 11/15/09 JETS/JAGUARS GAME!!
Ingredients
2 lbs ground pork
2 tablespoons maple syrup (for sweeter sausage add another 1-2 teaspoons)
2 teaspoons coarse salt
2 teaspoons fennel seeds
1 teaspoon ground sage
1 teaspoon dry mustard
1 teaspoon course black pepper
Your favorite frozen or refrigerated biscuits
Cracker Barrel or similar cheddar or other cheese, sliced (optional)
Directions
Bake biscuits as directed on package
Combine the dry spices in a bowl and mix
Add pork to the bowl and mix to combine well and evenly distribute the spice mix, don't be a bitch, use your hands yo!
Add the maple syrup and mix to combine
Form the pork into patties, a little smaller than a hamburger or whatever size you like fatso
Toss the pork onto a heated grill (or pan fry with some oil)
(optional) A minute before pulling the patties off, place slices of cheese on top to melt
Take the biscuits (you didn't forget them in the oven right?!) split them in half, and assemble the sandwich, duh!
My suggestion for tailgaters is to bake the biscuits the night before or toss them in the oven the morning of the game to bake while you are in the shower dealing with your hangover from the night before.
Got any ideas for TailgateJoe? Want to be featured on the site?
We are a site dedicated to the primal nature of man, to gather around the fire, eat, laugh, and drink! If you have any ideas for posts or content for the site drop us a line! Even if the idea sucks a little bit we can usually spit shine it to some degree!
If you are a chef or in the restaurant/hospitality industry, make or market cool guy-toys, or just have something you want featured on TailgateJoe then we want to hear about it. We are always looking for cool content and TailgateJoe is a great promotional outlet for you and your product/service.
Please Share This Post:
Spread the word and help our site grow! Clicking the links below will only take a few seconds and we really appreciate all the help you can give us, especially with twitter and facebook referrals!