Marinades figure very prominently in a lot of our tailgating and grilling. Now, let me get something straight off the bat here, I am NOT advocating the use of marinades when talking about premium cuts of beef, it is pretty ass backwards to take an expensive piece of meat like

a filet mignon or porterhouse and soak it in marinade. But for cheaper cuts of beef as well as chicken and pork, marinades are a great way to introduce flavor and a little tenderizing to the meat. In future posts I will go into the how's and why's of marinades as well as some of the great homemade marinades I use, but today I wanted to mention a store bought line of marinades I love and that are a staple of our tailgates and my kitchen.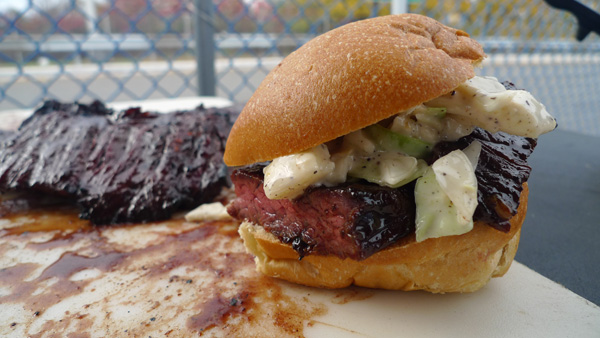 World Harbors
We use a bunch of the sauces and marinades made by World Harbors and we find them to be far and away the best marinades out there. As a matter of fact, the pictures on this page were all taken from a tailgate last week and are skirt steaks marinaded in their teriyaki. While I use and love pretty much their whole line, here are my favorites, these are all must tries.
Teriyaki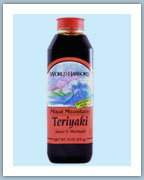 This is our #1 favorite marinade. Whenever we use this we get tons of compliments! This works great on chicken and pork, but we really like it best on steaks. We use it with flat, thin cuts, like skirt steaks, and find this to get the best results. We usually slice up the raw skirt steaks, stick them on wood skewers, then marinate them in this sauce for 12-24 hours.




Jerk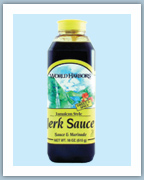 this is our favorite chicken/pork marinade. We usually dice up and skewer chicken breasts or use whole pork tenderloins with this marinade. You can use the same basic steps above with the steak when you are preparing the chicken skewers. There is a high sugar content, so make sure you take care not to burn them when grilling.




ChimiChurri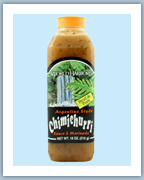 ChimiChurri is a marinade and flavor of Argentinian cuisine, but whenever we use it we get some people that say it kind of tastes like a better, fresher version of taco bell. We usually use it on steaks and serve it on fresh flour tortillas with sour cream and fresh guacamole.





These are just a few of the great marinades and sauces that World Harbor makes, some of the others we like are the Steakhouse, Fajita, Cheriyaki, and Sweet 'n Sour. Swing by their site and check out their complete line. You can find their stuff at Stop N Shop, Pathmark, and other grocery stores.
Oh, and if anyone from World Harbors happens to stumble onto this site, we would LOVE a few cases of marinade sent our way, email us!!
Got any ideas for TailgateJoe? Want to be featured on the site?
We are a site dedicated to the primal nature of man, to gather around the fire, eat, laugh, and drink! If you have any ideas for posts or content for the site drop us a line! Even if the idea sucks a little bit we can usually spit shine it to some degree!
If you are a chef or in the restaurant/hospitality industry, make or market cool guy-toys, or just have something you want featured on TailgateJoe then we want to hear about it. We are always looking for cool content and TailgateJoe is a great promotional outlet for you and your product/service.
Please Share This Post:
Spread the word and help our site grow! Clicking the links below will only take a few seconds and we really appreciate all the help you can give us, especially with twitter and facebook referrals!