We recently had a Mexican themed tailgate where we served all types of great mexican/southwestern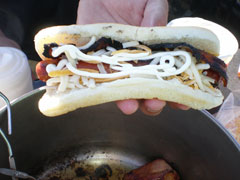 influenced food. It was a great hit and allowed me to experiment with some things I normally wouldn't do at a tailgate party. The Mexican Hot Dog was something I thought would go over like a fart in church but it actually turned out to be the surprise hit of the party! Don't be put off with the idea of sour cream, just think about the bacon, everything goes better with bacon, it's kinda like blow.
Mexican Hot Dog
Ingredients
Hot Dogs – as many as you want – Sabretts or Best suggested
Buns – a number matching the amount of hot dogs, duh
Shredded Cheese – look for Mexican blend (cheddar and Jack)
Bacon – thick cut preferred, as many slices as you have dogs
Sour Cream
Pinto beans(optional) enough for the amount of dogs you are making, cans are cheap, don't sweat it!
Ok, here are the simple directions, keep up!
Fry the bacon, if doing this on a grill get a cast iron pan or griddle sheet they sell to put on top of a stove, then reserve to the side
Grill the hot dogs. You can do this while doing the bacon if you aren't a total spazz
Heat up the beans (optional if you decide to go with the beans)
Put a hot dog in the bun along with a slice of bacon, lay some pinto beans in there (optional) sprinkle a little cheese across the top, and squirt some sour cream right down the middle
Cram it down your pie hole
Give it a try at your next tailgate party, or whenever you are making hot dogs, everyone will love them, including your cardiologist!
Got any ideas for TailgateJoe? Want to be featured on the site?
We are a site dedicated to the primal nature of man, to gather around the fire, eat, laugh, and drink! If you have any ideas for posts or content for the site drop us a line! Even if the idea sucks a little bit we can usually spit shine it to some degree!
If you are a chef or in the restaurant/hospitality industry, make or market cool guy-toys, or just have something you want featured on TailgateJoe then we want to hear about it. We are always looking for cool content and TailgateJoe is a great promotional outlet for you and your product/service.
Please Share This Post:
Spread the word and help our site grow! Clicking the links below will only take a few seconds and we really appreciate all the help you can give us, especially with twitter and facebook referrals!