When it comes to planning and executing the perfect tailgate, planning and time management with regard to the menu is really important. I always strive to grill up as much as possible on site, but depending on equipment, what I want to cook, and how many people I have to feed, I also incorporate some items made ahead of time. The slow cooker, or crock pot, is a great tool for this. Utilizing a crock pot, I can load it up the night before, let it slow cook for 8-10 hours, then unplug and take the cooker with me tot he game where I can plug it into my generator or simple inverter hoked up to the car. Using the slow cooker, I have a great appetizer, side dish, or main dish hot and ready to go right from when I show up, leaving me more time and grill space for other dishes I want to serve.
A quick note on slow cookers. I have one (actually a pair) of cookers made by Crock Pot. The one I have is actually wrapped in my team's-the Jets-color and logo,
take a look here
. It is simple, has high/low/warm settings, a removable stoneware bowl, and latches to securely seal the pot for travel to your tailgate or party.
Today's dish is a great example of something that works great as an appetizer, finger food, or main, kielbasa with brown sugar kraut. It only requires 4 ingredients, 4 of the staple men's food groups (sausage, beer, kraut, brown sugar), next to no prep, and no real required cooking skills.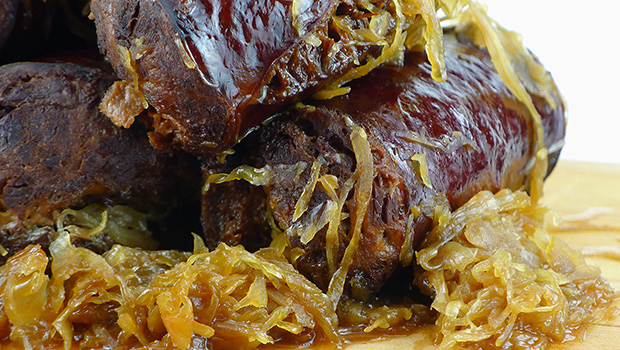 Ingredients
Kielbasa, 2-3lbs. I used high quality fully cooked fresh made by Pulaski Meats in Linden NJ
Beer, 1 can or bottle. I used Heineken, but feel free to experiment
Sauerkraut, 1 pack (24-32 ounces) drained. In order of preference, refrigerated bag, glass jar, or canned
Brown sugar, 1 cup
Directions
This is so simple, I am not going to spend a lot of time explaining,
In a saucepan over medium heat dissolve brown sugar into beer and then put to the side.
Cut kielbasa in chunks about 4 inches long, don't stress the specifics here, and place into slow cooker.
Dump kraut (you did drain it right dummy?) into cooker on top of sausage.
Pour beer/sugar juice on top of your sausage/kraut mound of awesome.
Cook on low for 8-10 hours.
There ya go, way to easy but way to delicious as well. once finished you can slice the kielbasa into smaller pieces and drop a box of toothpicks next to the crock pot for a self service appetizer. You could also leave a basket of small potato rolls next to the pot for sliders, or you could butterfly the links lengthwise and serve on hot dog buns.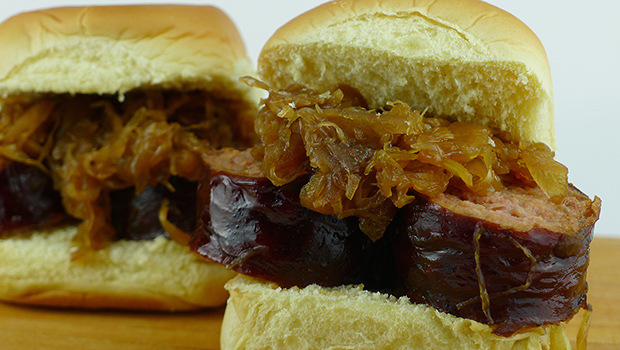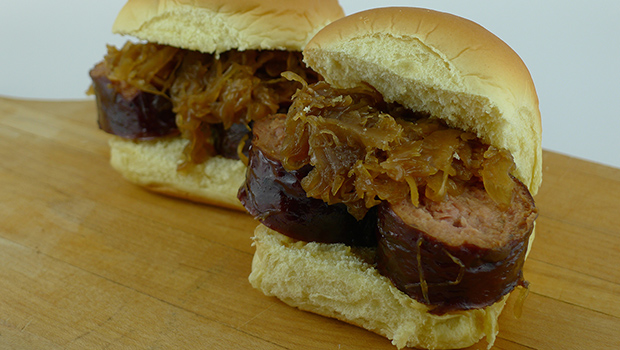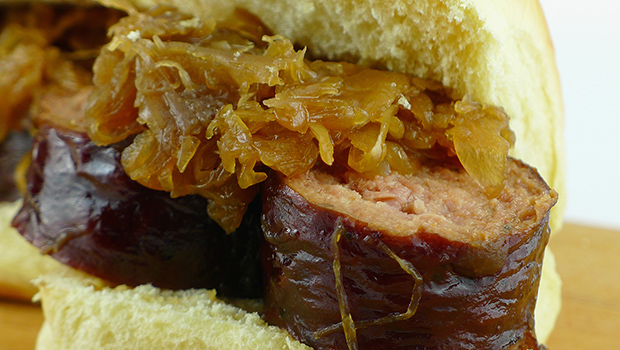 Got any ideas for TailgateJoe? Want to be featured on the site?
We are a site dedicated to the primal nature of man, to gather around the fire, eat, laugh, and drink! If you have any ideas for posts or content for the site drop us a line! Even if the idea sucks a little bit we can usually spit shine it to some degree!
If you are a chef or in the restaurant/hospitality industry, make or market cool guy-toys, or just have something you want featured on TailgateJoe then we want to hear about it. We are always looking for cool content and TailgateJoe is a great promotional outlet for you and your product/service.
Please Share This Post:
Spread the word and help our site grow! Clicking the links below will only take a few seconds and we really appreciate all the help you can give us, especially with twitter and facebook referrals!