If you are from Brooklyn, Staten Island, or even Manhattan you probably know of John's Deli and their famous roast beef sandwich. That roast beef, and more so the fresh mozzarella and midnight gravy and onions is stuff of legend. In coming up with an idea for a "cold weather burger," lol, wtf is a cold weather burger anyway, I came up with the thought of doing an homage to the John's sandwich.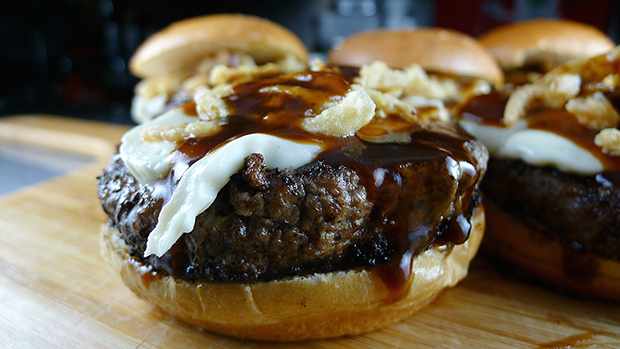 In keeping with my cooking belief in simple preparations executed perfectly using the best ingredients, I think I created a masterpiece. As with all of my burgers, this starts as a Pat Lafrieda fresh ground blend of brisket/chick/short rib beef, grilled to the perfect just-medium-rare. To that I add a few chunks of the best fresh mozzarella found anywhere outside of Italy, Fiore's House of Quality in Hoboken. There are plenty of places in Staten Island and Brooklyn closer to home for me to get awesome fresh mozzarella, but Fiore's is the best there is and I only want to work with the best stuff. I then take a torch to the cheese on top of the burger to give a slight melt. You do NOT want to melt the cheese much, as the great thing about high quality fresh mozzarella is the moisture content which you will lose if you melt it too much. I then ladle on a bit of the dark brown gravy. That gts topped with some crunchy fried onion strips, which are then again covered in more of the gravy. This whole thing sits in between a fresh custom baked brioche bun from Royal Crown Bakery.
This burger is insane, and maybe my new favorite. Keep an eye out during the cold late season games to see when we will be serving it, because you will definitely want to try one.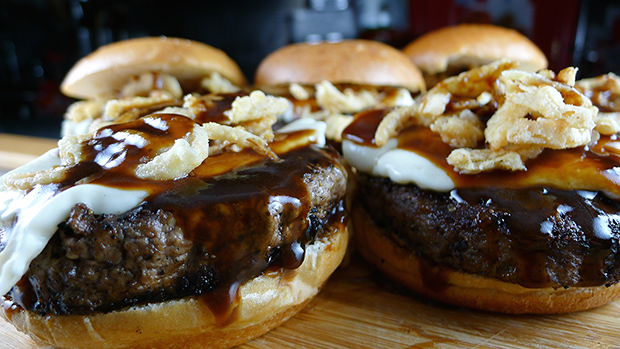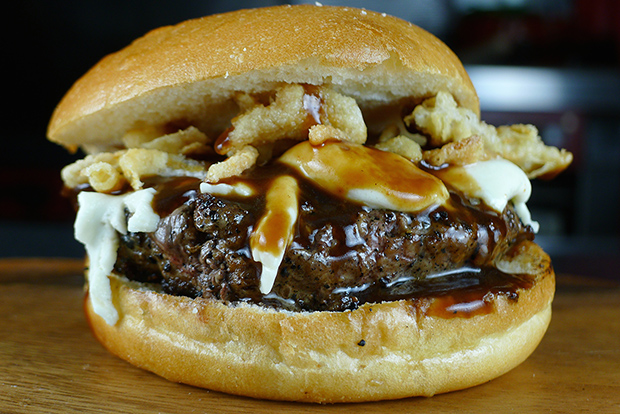 Got any ideas for TailgateJoe? Want to be featured on the site?
We are a site dedicated to the primal nature of man, to gather around the fire, eat, laugh, and drink! If you have any ideas for posts or content for the site drop us a line! Even if the idea sucks a little bit we can usually spit shine it to some degree!
If you are a chef or in the restaurant/hospitality industry, make or market cool guy-toys, or just have something you want featured on TailgateJoe then we want to hear about it. We are always looking for cool content and TailgateJoe is a great promotional outlet for you and your product/service.
Please Share This Post:
Spread the word and help our site grow! Clicking the links below will only take a few seconds and we really appreciate all the help you can give us, especially with twitter and facebook referrals!