Last week we made the announcement that we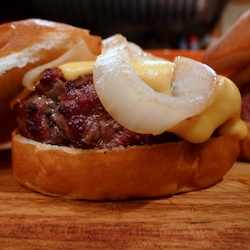 will be serving burgers from LaFrieda at our tailgate parties. I figured with using the best meat possible, we should really create the first TailgateJoe signature burger. It has to be something that we can make for the 300+ people at our parties, but still fresh and awesome. After some tinkering, I am here to introduce the TGJ Lot Burger.
I think one of the great things about cooking is the how and why involved in it. This is why I love shows like Alton Brown's Good Eats. A lot of the most inventive chefs and cooks have a method behind what they are doing, and that is the stuff I love reading about. The TGJ Lot Burger had some thought put into it, and here is that story.
Cooking for 300+,In a Parking Lot!
I am always faced with the balancing act between great, fun, fresh food and getting it from the grill into people's mouths as quickly as possible, 300 mouths! Oh, and this needs to be done in a parking lot with no utilities and by a non-pro group consisting of me and whatever friends want to pitch in to help that given day.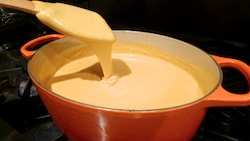 The first hurdle is the burger patty itself. There are some decent quality frozen burgers, but they take a while to cook even on our grill, and forget about anything but well done. Fresh burgers are the only way to go. We can usually cook 30-40 burgers at once. This is decent, but was still leaving some long lines at peak moments. Near the end of the season I developed a system where we cooked up a few batches, using one of the grill compartments on our Crown Verity MCB72 grill as a warming oven, holding them in pans until we had 100+. This worked well in getting the food out quick, but it led to the second issue, the cheese. Everyone wants a cheeseburger, that gooey cheese is what makes the burger perfect. Everyone has been to a party where the burgers were served with a cold unmelted slab of cheese on the side for you to toss on, and with our cook method that was unfortunately the way we had to go. For the TGJ Lot Burger we figured out a delicious solution, a homemade cheddar/American cheese sauce that can be squirted on. With the cheese sauce and fresh LaFrieda patty, I now had 2 of the three components of what I considered to be the ideal burger. The last component was some type of caramelized/grilled onions. The problem with caramelized onions is the time it takes. No matter what recipe books and tv chefs tell you, caramelizing onions takes all of 40-50 minutes, and that is for 1 or 2 onions, not enough for 300. Well, after a trip out to Denver 2 years ago and a stop by Biker Jim's hot dog cart where he serves his sandwiches with these excellent sweet onions, I developed a version of what he does, producing onions that are caramelized sweet yet still retain some of the crispness of onions, and which can be cooked in 5 minute batches.
With all this thought, it would be half-assed to just serve this up on some plain old grocery store mass produced bun. Well, back in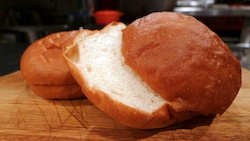 July my friends over at Royal Crown Bakery hooked me up with some awesome hot dog rolls that we used with our 1st place hot dog. I spoke to them about hamburger rolls and they came up with a great one for me, so we will be serving these burgers on delicious, fresh baked Royal Crown Bakery buns.
So there ya have it, the TGJ Lot Burger, a delicious burger that can be made relatively quickly for large groups. We will be serving them all season at our tailgate parties.
TGJ Lot Burger
Pat LaFrieda blend of chuck, short rib, and brisket
Home made cheddar/american cheese sauce
TGJ's Quick Caramelized Onions.
Fresh baked Royal Crown Bakery bun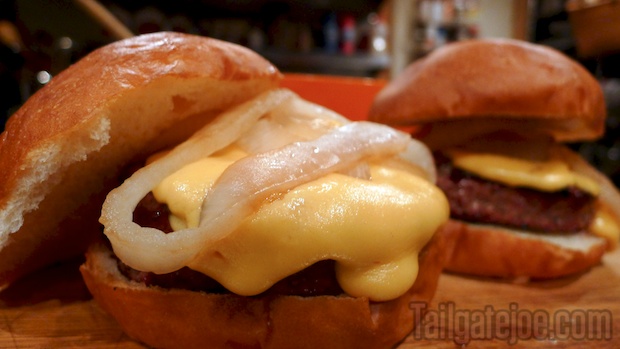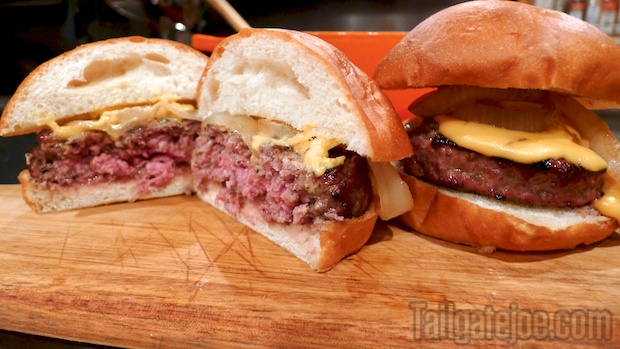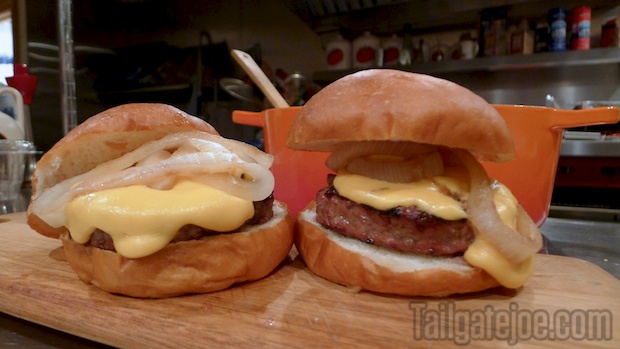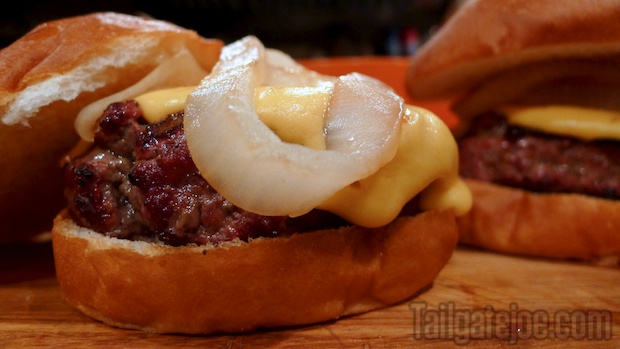 Got any ideas for TailgateJoe? Want to be featured on the site?
We are a site dedicated to the primal nature of man, to gather around the fire, eat, laugh, and drink! If you have any ideas for posts or content for the site drop us a line! Even if the idea sucks a little bit we can usually spit shine it to some degree!
If you are a chef or in the restaurant/hospitality industry, make or market cool guy-toys, or just have something you want featured on TailgateJoe then we want to hear about it. We are always looking for cool content and TailgateJoe is a great promotional outlet for you and your product/service.
Please Share This Post:
Spread the word and help our site grow! Clicking the links below will only take a few seconds and we really appreciate all the help you can give us, especially with twitter and facebook referrals!